New CAE Solution Has Been Built from the Ground Up to Meet the Four Fundamental Requirements of Structural Analysis and Design Teams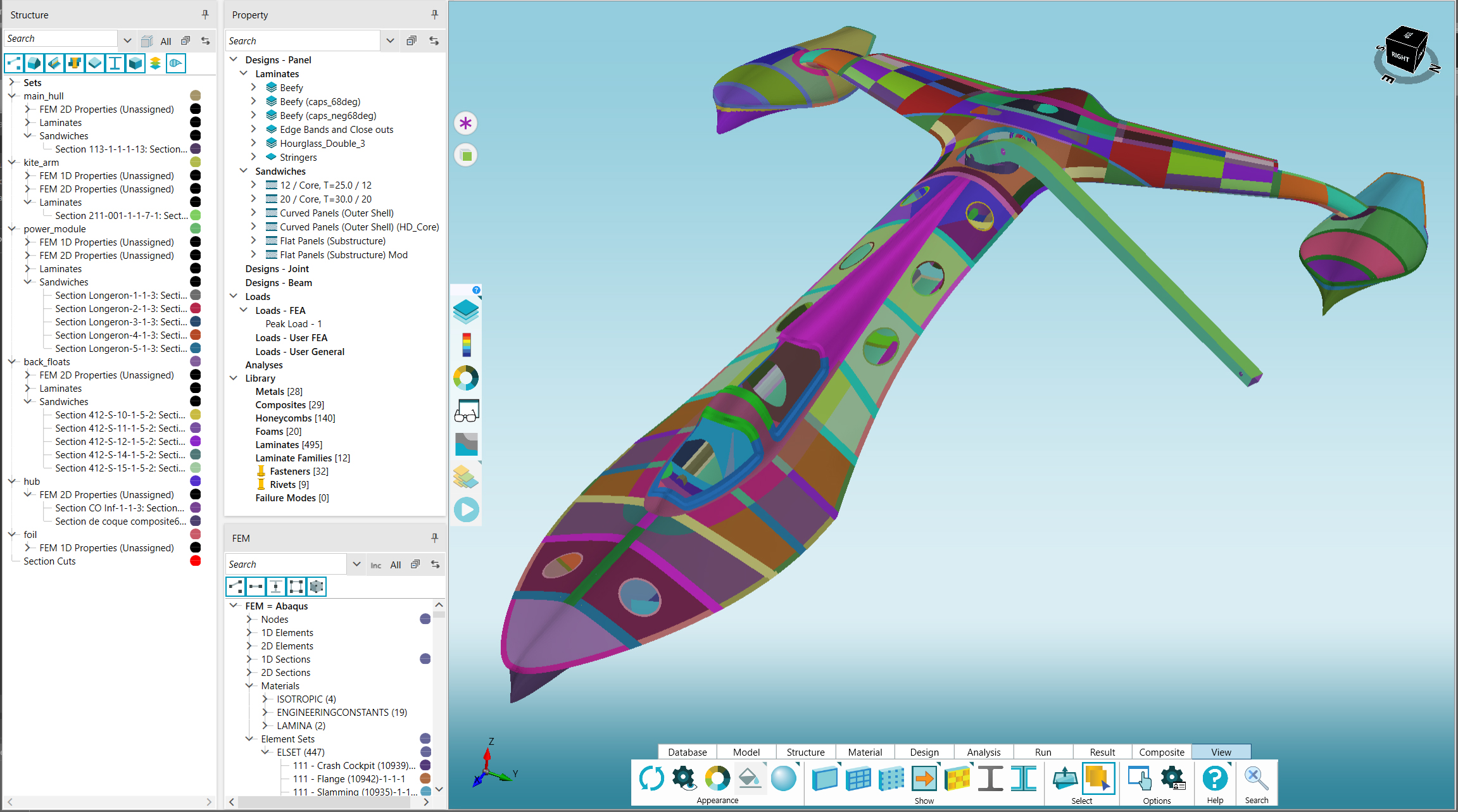 Collier Aerospace's newly released HyperX® software analyzing the SP-80 craft.
PARIS, FRANCE — Collier Aerospace Corp. has introduced today at JEC World 2022 its new HyperX® design and analysis software for composite and metallic structures used in aircraft, space and automotive vehicles, and many other high-end applications. This computer-aided engineering (CAE) solution provides powerful and sophisticated capabilities, including stress analysis and sizing optimization, which enable structural analysis and design teams to achieve several goals, including reducing structural weight, shortening development schedules, improving producibility and achieving airframe certification.
At Collier Aerospace's booth (K44 in Hall 6), engineers are conducting live demonstrations that show how the company's HyperX software can reduce structural weight by up to 20 percent and drastically shorten design schedule while still achieving optimized designs. The company is also spotlighting two major projects that used HyperX software for sizing optimization: the Swiss SP80 team's kite-powered composite racing sailboat; and a natural fiber wind turbine blade, a Korean collaboration between the Department of Naval Architecture and Ocean Engineering, Hongik University and Samwon Millennia Inc.
"HyperX is our new flagship product, replacing HyperSizer," said Craig Collier, co-founder, CEO and president of Collier Aerospace. "It's been reimagined from the ground up with greater speed, power and data capacity to meet the demands of larger models and more-complex designs. HyperX software lets you center your design by finding the best balance among weight, schedule, producibility and certification."
FAST, EFFICIENT, INTUITIVE
Collier Aerospace used the latest software development technologies, methods and best practices to create the most comprehensive and capable design sizing and aerospace analysis tool possible. This strategy delivered a host of enhancements, including streamlined workflows, an improved graphics engine, enhanced computer-aided design (CAD) integration, a redesigned relational database that can hold terabytes of data, and a highly intuitive interface. The HyperX software provides stress and failure analysis, sizing, reporting, and analysis traceability and visibility.
The advanced HyperX software has been built around composites. Using the application, customers that are considering thermosets, thermoplastics, resin infusion, out-of-autoclave, tape or fabric can see in seconds how different materials will affect a given design. The software solution can also analyze metals, so designs can incorporate each type of material for structural optimization and weight reduction.
HyperX software helps ensure the producibility of a composite part by creating a design that is optimized for manufacturing. It allows larger ply surface coverage with simpler layouts that do not significantly increase weight but do reduce variation in build; reduces schedule time by speeding up the engineering cycle; and—in the case of aerostructures—helps shorten the U.S. Federal Aviation Administration (FAA) and European Union Aviation Safety Agency (EASA) certification processes.
The new software gives customers the ability to concurrently analyze and design aerostructures, making it more efficient than other general tools. In fact, it is possible to perform aerospace processes 10 times faster with HyperX than with aerospace company tools. Another efficiency benefit is the ability to generate stress reports in the form most usable for certification by the FAA and other agencies around the world.
The Collier Aerospace team has been consistently and deeply involved with major OEMs on space programs—from initial concept to final design and successful launch. The company offers unmatched experience working on launch vehicles, satellites, aircraft—both fixed and moving rotor designs—UAMs, UAVs, X-planes, and more. From experience as an integrated partner and as embedded engineers in programs, the team understands the entire engineering maturation process.
In addition to aerospace and automotive, HyperX software can be used by the high-performance sports, medical, shipbuilding and wind energy industries.
Smooth Migration
The new software, which is licensed on a subscription basis, will replace HyperSizer®, the company's previous product. Existing customers will be invited to migrate to the new software. Collier Aerospace will continue to support HyperSizer throughout a customer's transition to HyperX.
To inform and educate customers, Collier Aerospace has created a new website that is being formally unveiled here at JEC World. To further explain and demonstrate the new software, Collier Aerospace will host a technical webinar on May 12. Those interested in attending the webinar can register here: www.collieraerospace.com/webinar.
For additional information on Collier Aerospace's JEC World 2022 participation, please visit www.collieraerospace.com/visitors.
About Collier Aerospace
Collier Aerospace Corporation is a leading provider of computer-aided engineering (CAE) software for designing composite and metallic structures. Its flagship product, HyperX® software, is a structural solution for failure analysis, stress reporting, design sizing optimization, and data traceability. It is used across multiple industries: aviation, space launch, automotive, wind energy, and high-performance sports. The software helps designers and engineers reduce weight, accelerate development, improve design producibility and achieve airframe certification. The company was founded in 1995 by engineers Craig and Ivonne Collier and is headquartered in Newport News, Va. Learn more at www.collieraerospace.com.